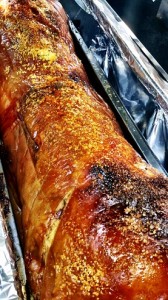 Whitstable, on the north Kent coast is a harbour town and has been in existence since Saxon times. This flourishing little community is located only 60 miles from London and just 6 miles from the historical city of Canterbury. Whitstable has always been famous for its fishing industry with catches such as oysters, cockles, whelks and sprat. Hence, they are well-known for their fish and chip shops.
That is why I readily took the challenge to cater for their May Day Celebration with my super hog roast Whitstable event. Their May Day Celebration is much-beloved by the community and many people come from far and wide to experience the procession, the Morris dancing troupes, with obviously, lots of dancing and singing including their very own Green Man, a nod to Pagan times.
It's a great day for everyone with a lot of very positive energy and when the sun is shining, it adds an extra bonus to the proceedings. I brought along my Titan Roasting Machine which I'd purchased a few years back from the Spitting Pig Company. I needed to do my part to make hog roast Whitstable an award-winning event. And I believe roasting a beast is a good way to balance out all the seafood on offer.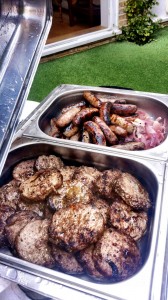 The Titan can roast a hog up to 85 kilos, which can feed up to 300 people. I made sure we were also well-stocked with buns and all manner of condiments to the side. I arrived, as I always do, quite a bit before other participants so that I could get myself situated and get the beast on the roaster. For an animal that size, it can take a good few hours before it's ready to serve. I brought along lashings of homemade applesauce and a couple pans of our homemade sage and onion stuffing, both of which are the perfect complement to juicy slices of roast pork and crackling.
The Titan was the second machine I bought outright from The Spitting Pig Company and its professional look and ease of manoeuvrability makes it the machine I choose to use the most. People are fascinated with how easily it cooks food to perfection. You can do spit-roast chickens on it as well as jacket potatoes and all manner of vegetables. It really is an attractive hunk of steel and glass. And as an added benefit, it cleans up easily afterwards as well.
Well, my roasted hog went down well at the Whitstable event. I was able to sell everything I brought and cooked for the occasion, which leaves me, once again, in profit. Always welcome in any business! I can't think of a better way to spend a beautiful sunny weekend in May than in the stunning town of Whitstable, watching Morris dancers and eating succulent roast pork sandwiches and maybe even enjoying a cold beer or two.