They call it the Garden of England, and with good reason. Kent truly is the orchard of England with its wealth of hop gardens and orchards making it one of the more naturally productive areas of the UK. It's also one of the warmest parts of the country, too. Great scenery, great weather and a great climate mean Kent is a great place to enjoy superb food. Hog roast was made for counties like Kent, in fact let's rename it Hog Roast Kent.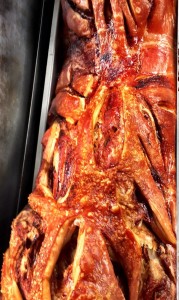 Hog roast Kent? Why not? As mentioned Kent is the quintessential English county and what could provide better sustenance than a superb hog roast in this delightful county? Kent not only benefits from a favourable climate and beautiful countryside but, as much of it is commuter land; it has a lot of people looking to relax after a busy and stressful week in the city. Hog Roast Kent to the rescue! A hog roast really is a great food for any event and is a frequent site at parties, birthdays, anniversaries, sporting dinners and functions across Kent. Hog roast is rustic food with a fun element that the people of Kent love. Strong flavours that go hand in hand with some of Kent's best and most famous beverages – Bishop's Finger anyone?
Of course, the people of hog roast Kent (or Kent as it shall be unofficially known from here on) don't have to down a beer to savour their hog roast. The best hog roast needs nothing else to be enjoyed as its melt in the mouth; succulent flavours are all you need to be transported into food heaven.
Kent's proximity to the continent could have helped nurture the county's love of hog roast as our French friends certainly enjoy their Rôti porc, too. Perhaps hog roast Kent is a little bit more French influenced than its inhabitants may care to admit.
The Coach House, London Rd, Dunton Green was the location of a recent event we at hog roast Kent catered at. Our succulent Pork was the meat of choice at this function as it at most of our events. Although the majority of the 95 guest were meat eaters, 15 of the party were vegetarians and were treat to our lovely vegetarian quiches. As for those hearty meat eaters; spit roasted pig served with apple sauce, stuffing & golden crispy crackling! Gourmet hot dogs were also served with on the night with fried onions and a selection of sauces. Overall the evening was a huge success and compliments to the chef were definitely not in short supply.
Kent of course was home to some of World War II's major conflicts including the legendary Battle of Britain. Some would say that producing the perfect hog roast is a battle in itself. The hog roast is an imposing piece of meat, with an average pig capable of serving around one hundred people or more, but the cooking is a true battle of six long hours tending to the pig in order to bring about the most delicious pork for the hungry Kent diners. It is perhaps this long cooking process that brings out the very best in the meat and produces a flavour that is unmatched by almost any other meat you could care to name. It's a meat that everyone loves with Kent youngsters just as happy to tuck in to a delicious hog roast as the older generation are to nibble on the tastiest pork crackling you will ever find.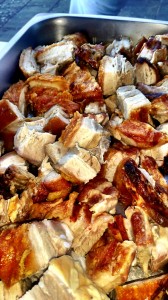 Hog Roast Kent is a professional hog roasting company with a family feel serving the community with wholesome, fresh and nutritious food for any occasion whether it is a birthday, wedding or a christening. We have had requests for romantic meals for two which have been a delight to cater for. Scrumptious meat oozing with flavour best describes hog roasting meat, it is like nothing you have ever tasted before and the process cannot be done on anything other than a hog roasting machine a traditional oven at home can cook meat but not nearly as efficiently or as nicely as a hog roasting machine hog roasting cooks the food in high temperatures which are also duel controlled and the meat cooks full of flavour. Hog Roast Kent is well known in the area and to be honest we have catered for most! Our business started off as a hobby for ourselves and family then friends started to ask us then friends of friends and we knew we were onto something big, we then decided to start up our own business and we haven't looked back! Year in year out we receive more and more orders and have in the past year alone taken on more staff to deal with our ever growing popularity! Chicken, turkey, beef and lamb are becoming more requested along with the famous pork and crackling and with the meats we can make the most mouth-watering huge sandwiches which are a meal alone we supply huge soft buns in white or brown in large or small any size you wish we have a fantastic baker who works side by side with us and he gets up at the crack of dawn each day to produce the freshest and tastiest buns around. Crispy fresh salads are another speciality with wonderful dressings made from again only the finest ingredients. You can rest assured that when you book an event through us you will be getting the finest quality ever.