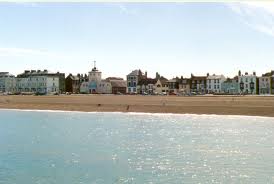 Hog roast Deal is the perfect feast to have, looking out across the English Channel. You can almost imagine there would have been people eating pork cooked on a spit back when Julius Caesar first landed in the UK back in 55 BC. At Spitting Pig we feel that the fact this is one of the oldest ways of cooking food as being one of our biggest attractions. But thankfully technology has made the food we prepare a lot more spectacular and our hog roasting machines mean we don't need anyone to turn a handle for up to six hours!
Spitting Pig is now the talk of Kent and we can assure you that there's no banquet quite like a hog roast Deal banquet. The roasting pig is always the star of our feasts and from start to finish your guests will not be able to take their eyes off it. The amazing smell of the pig slowly cooking away in the corner of the room should be enough to grab the attention of anyone who arrives. This will then be matched by all your guests' conversations seemingly being based around the food on offer. And we do like to make sure that we live up to everyone's expectations when they come to actually sample our meat!
If you are looking for a more private affair then why not try our hog roast hire Deal service? This puts you totally in control of the party and is the ideal way to show off to your friends and neighbours. Previous customers have told how it was ideal for a smaller event where any additional staff were not required. We have also found that hog roast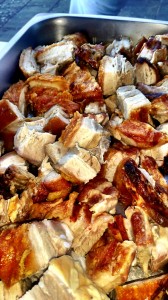 hire Deal has been used in charity events as a way of raising a few extra Pounds by selling roast pork. Also it helped to cut the costs of their party so they could raise as much cash as possible for charity. Hog roast hire Deal has definitely been a success for pubs and bars over the weekends, it is especially popular with football fans on a Saturday or Sunday who are looking for a quick bite to eat while watching the game. You should also see how a host of extra customers come for a drink after spotting the hog roast outside!
Just 30 minutes from Deal is Canterbury which was the location of a recent event Spitting Pig Deal catered at. The event itself was at Ratling Barn South and was for 80 guests. As the hog cooked on the machine we were met with all sorts of questions inspired by the scents of the cooking hog wafting through the air. A choice of two freshly prepared salads and warm new potatoes in herb butter were served on the side as well as some golden crispy crackling, stuffing and some apple sauce. Once the hog was ready, it was carved onto fine china plates for the guests to enjoy. Once every single guest had enjoyed their meal we simply packed up, took all the rubbish and let them enjoy their party.
The business functions we have hosted have become the talk of Kent and we feel that hog roast Deal could be perfect way to wow any potential clients. On previous occasions we have supplied catering for some massive companies and if you look at the testimonials on our website you will see a selection of our satisfied customers. In the past we have found that the perfect way to impress a future customer is through their stomach before you approach a deal and a hog roast will really get everyone talking positively about you!
Why not treat your staff to a hog roast as the perfect way to say thank you for a job well done after completing a big project? We also throw a fantastic staff Christmas party where roast turkey can also be on the menu as we're not only about the pork!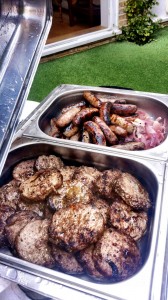 If roast pork isn't to your liking then there's a whole host of other meats we can bring instead. How about a whole lamb instead? We can also provide free range chickens and turkeys, homemade burgers and sirloin of beef. But if something else is truly on your mind then we will see what we can do to make it happen.
We do like to offer full flexibility in our menus and like to think that our chefs work to their best when they are cooking dishes from scratch. Don't worry about any of your guests special eating habits as everything is prepared on site so we always be able to rustle up something extra in that case! At hog roast Deal we are also able to offer a full menu for vegetarians as we strive to cater for everyone and know a hog roast wouldn't really be that much of a vegetarian friendly event. Our non meat options include veggie burgers, a selection of salads, feta skewers and haloumi kebabs. And what better way to wash this down than with a few choice alcoholic drinks to see out the night?