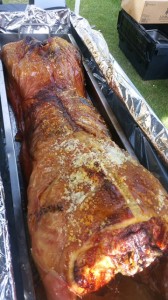 Kent has always been a great place for a fantastic meal and so that's why we're confident you'll love hog roast Cranbrook. Such a historic town like Cranbrook should surely be the ideal spot for one of the most traditional forms of cooking to still be used in the UK. Cooking meat using a spit dates back hundreds of years, so this is the ideal place to host such a feast, especially when you look out on the idyllic Kent countryside, thinking of days gone by.
At Spitting Pig we are proud to boast that we can bring a bang to your party with hog roast Cranbrook. From humble beginnings we are now located all around the UK and are able to cater for weddings, private parties, corporate affairs and any other events you feel could be made better off by having a hog roast. There is no doubt how impressed your guests will be by our spit rotisserie and the whole pig we'll have roasting for all to see. The first thing they will see will be the hog cooking and browning over before the smell of pork drifts over to them. Everyone will be able to hear the crackling and finally when they can taste the pork; the soft texture and succulent meat will keep them coming back for more!
Weddings are one of a range of speciality events we offer and we have catered for really varied bunch of them in the past! Given the experience we have our staff have seen almost every possible occurrence during the meal time so we are well prepared to deal with anything that might happen. As we know the amount of planning that goes into the whole day, our meal organisers will take as much of the stress away from you by ensuring that all your needs are met and we are aware of any special food requirements for your friends and family. All of our food is cooked and prepared on location so we will be able to make additional things on the day, if they are needed.
Leaders In Our Field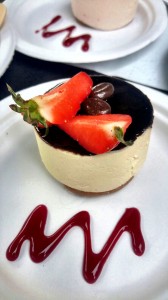 We recently catered for a small wedding meal with just family and very close friends appearing at the event. It was a very formal event with lots & lots of wine involved which obviously added to the joyous atmosphere. Wedding are my favourite events to cater at just because of the great moods of the guests and the care and dedication put into the events before hog roast Cranbrook have even step foot into the venue. The bride and groom opted for our classic wedding menu consisting of spit roasted Pig served with applesauce stuffing & crispy crackling, a choice of three freshly prepared salads and roasted new potatoes in rosemary and garlic. Our waiting staff were continuously receiving compliments on the food and their service. We expect nothing less than the highest quality service from all our staff and that is exactly what they got. We then served the wedding cake that the lovely couple had been so kind to provide themselves. A special thank you from the bride's father was a touching end to the day.
Our business lunches have also become a bit of a success in recent times as well, especially the pig-in-a-roll menu, which offers a quick feast to impress potential customers, but doesn't take up too much of your vital time. After a lot of very impressed testimonials we have learnt that a good meal before an important meeting has, in a lot of cases, helped play a part in bringing a successful outcome. Spitting Pig also cater for staff Christmas parties, bringing free range turkeys, as well as pork, to ensure that we can keep with tradition. Ideally we could bring you a large menu's worth of food so your staff can have a proper three course banquet for the festive period.
If you are holding a smaller event then why not try out hog roast hire Cranbrook service? This is perfect if are you having a few friends round for a party and want a different way of cooking the food. We have had reports of charity groups hiring our spit rotisseries and making a great deal selling roast pork at fund raising events. Whole streets clubbed together during Diamond Jubilee for their hog roast hire Cranbrook to ensure the 60 years anniversary of the Queen was properly celebrated.
In the menus we are offer a lot of flexibility in the food we provide and if there is something you require which isn't listed our chefs should be able to make it for you. We find they are at their most creative when making up menus from scratch for our customers, so we whole heartedly encourage you to challenge their skills! The range of food we can bring will be able to cater for everyone and we have even had many happy vegetarian customers making the most of the food on offer. Some of the dishes we can bring to your hog roast Cranbrook include mini pizzas and mini quiches, dim sum, chicken satay and Thai spiced kebabs. There's also a range of desserts from profiteroles, to cheesecake, to fresh fruit salad. All this can be washed down with tea and coffee or maybe you could see the night away with a few alcoholic beverages to relax and enjoy the rest of your party?