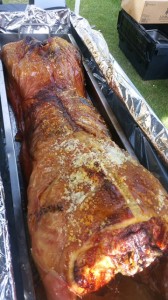 The finest meat has been enjoyed in Kent for as long as one can remember and that's why we're proud to say hog roast Chatham will be the talk of any party we host! At Spitting Pig we have been holding some pretty extravagant banquets over the years, with some of them hosting up to 3,000 people. During this time we've seen plenty of crazy events but have always ensured everything runs smoothly so that your event goes off without a hitch.
From humble beginnings, Spitting Pig has now grown to cater for the whole of the UK. In that time we have gained the experience to deal with some colossal events as well as smaller, more intimate parties. Recently we have played host to some amazing weddings, birthday bashes and Diamond Jubilee parties and all the guests will agree that hog roast Chatham is quite an experience. Our catering service is at the core of our business and it's how we properly wow a party but we do offer other services too.
For those of you looking to take on the responsibility of cooking the hog yourself you can roast one of our hog roast machines and purchase a pig from us. Bear in mind this isn't a fast process and a lot of patience is needed, with the average cooking time being five hours. But once the pig is cooked you will see that opting for your own hog roast hire Chatham was a great idea.
Hog roast hire Chatham can be used for many occasions including school fetes and charity functions. This will be a great deal cheaper if you are looking to reduce costs, for a fund raising event for example. We are also able to offer you the pig, a gazebo, a table, rolls and sauces so that you can make sure the party goes off with a bang! Over summer we had a lot of customers hiring our spit roasting machines so they could host their own Olympics parties. Whole streets have also been known to club together so they could throw their own parties and have a proper get together.
The Best Hog Roast In Chatham
There are many other variations available if you are not are big fan of roast pork. We are also able to supply a whole lamb instead of the hog and as well we can bring turkeys, fresh cuts of beef, chickens and homemade burgers. If we are supplying a large menu of food everything is prepared on site, which allows us to prepare food especially for those unexpected guests with special dietary requirements. Our menus try and cater for as many as possible but if you feel there's something which your guests would love then we will do our best to include it. Our chefs have been known to do their best work when coming up with menus from scratch for customers with very specific ideas.
As we are all too aware a hog roast doesn't seem like the sort of event which would be revelled in by a vegetarian. However, we strive to offer a full option for those non meat eaters among you, serving halloumi kebabs, salads, feta skewers and veggie burgers as well as many more dishes to ensure everyone is catered for.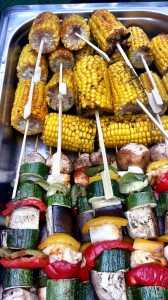 A recent event saw us catering at an open day at a farm that was up for sale with the customer expecting 50 guests for the viewing. Our traditional hog roast in a bun was the menu of choice. Arriving at the venue 5-6 hours before serve time is something we always do. This allows us to freshly prepare all the food from scratch; whether it is the roast itself or any of the accompaniments such as apple sauce, golden crispy crackling or the stuffing. The aromas of the pig were filling the air as guests began to arrive which took some of the attention away from the viewing. Guests seemed to be very impressed with the quality and quantity of food we were serving with many of them promising to recommend us to friends and family.
For any pub or bar owners, hog roast hire Chatham could be ideal way to liven up a weekend of live sport. With our spit roasting machine outside offering your clientele freshly roasted pork, we will also be drawing in a lot of passing custom as a hog roast is still quite a unique site.