Kent has always been the ideal setting for a traditional feast and that's why hog roast Broadstairs has been a roaring success! What could more ideal than looking out over the Isle of Thanet while tucking into a medieval banquet? At Spitting Pig we specialise in bringing parties and feasts you won't forget to whatever event you require them for. We have a wealth of experience in dealing with special occasions for hundreds of people so no request from you should be too crazy, given the number of people we have had to deal with in the past.
Hog roast Broadstairs could be the perfect way to spice up the most important day of your life, your wedding. As we have dealt with a great deal of wedding parties in the past we know exactly how to help you plan and take as much hassle away from you as possible. We have dealt with people with all kinds of dietary requirements and even those who don't like pork! So we will be perfectly able to offer you a menu that can be eaten by Great Aunty Doris and any other guests who can't eat certain foods. All of our menus are prepared on location so we will make everything to suit the needs of your friends and family.
We also offer a hog roast hire Broadstairs service so you can play host to your own party and look the part as the chef. This would be ideal for smaller parties or charity events where there's a smaller budget. In the past we've had scores of people opting for our hog roast hire Broadstairs to host street parties. The Jubilee was very popular time for this, with celebrations taking place all over the country. Your friends and neighbours will be talking about you for a long time to come if you throw this kind of event and are the chef, we can also sell you the hog for an additional fee.
If you run a pub or a bar, hog roast hire Broadstairs could also be ideal for you too. This could take the strain off the kitchen on a busy day and offer the punters some roast pork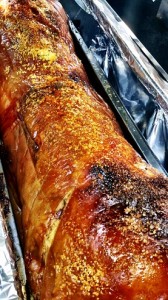 while they watch the weekend's sporting events. A hog roast is also the perfect way to bring in passing trade, with the amazing smells coming from the roasting pig enticing anyone who happens to walk past.
A recent function we catered for was a huge success at Our Lady Star of the Sea. With over 100 guests attending the event we sure had our work cut out for us but that's what we live for at hog roast Broadstairs. The mixture of a hog roast and seasonal vegetables is definitely a winning menu! Compliments flooded in about the hog roast, this isn't really a shock when you consider the pork is layered with golden crispy crackling, stuffing and homemade apple sauce. Some warm new potatoes in herb better were also served with the meal and to top it off, all the food sat on fine china crockery. The chef brought with him a number of staff to help cater at this event; The waiting staff received excellent reviews along with the head chef and his assistant.
The corporate functions we host have been very successful over the past few years. Due to the nature of the food they could be for many different business events and our staff are highly trained, having worked at some pretty important corporate meals in the past. We have learned that a highly effective way to impress potential clients is through their stomachs and have had a lot of positive feedback to back this up. A hog roast could also be ideal for a staff party, perhaps the perfect way to thank your hard working team for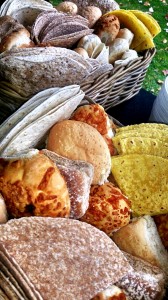 hitting a deadline or maybe an alternative for a work's Christmas dinner (we can bring some turkeys as well!).
Cooking meat on a spit is one of the oldest ways of roasting still used in the modern world. There is definitely something really medieval about watching a hog slowly crisping over while looking over at the countryside. Our spit roasting machines are now a lot more efficient and energy saving than the servants who would have had to operate them and our chefs have a wealth of experience to ensure the meat is cooked to its too true succulent perfection!
We offer full flexibility in the menus we serve and find the chefs become inspired when helping you come up with new dishes for your special party. Should roast hog not be to your taste then we can instead bring a lamb to cook on the spit, or maybe sirloin of beef, or perhaps free range chicken or turkey? There's also a whole selection of canapés and other starters to go with deserts if you're planning on having a larger feast. Vegetarians are also catered for as we provide a whole range of salads in our menus, as well as falafel and haloumi kebabs.